Safe in the Spotlight tells the story of the founding and early years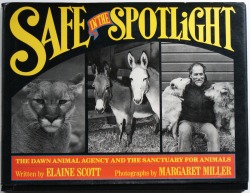 Written by Elaine Scott and published in 1991 by Morrow Junior Books, beautifully photographed by Margaret Miller, this book tells of the early history of a couple's love for animals, and a penchant for rescuing the old, injured, and infirm that eventually led to their buying a large farm and dedicating themselves and their family to a life's pursuit. Today, some 19 years later, Amanda pictured in the book as a young child, frolicking with the baby animals, is all grown, and with her mother, Bambi, aunt, Babette, and grandmother, Bunny, still devote their waking hours to the care and feeding of old, injured and sick animals.

An article in the August 2008 Hudson Valley magazine picks up the story of this remarkable family venture and fills in the details.
http://www.hvmag.com/Hudson-Valley-Magazine/August-2008/Lights-Camera-Animals
---